You know in movies when characters are late for their travel plans so they are sprinting down streets, piers, and through airports?   When I was trying to get myself to college last weekend, I had one.
I was booked to take the Redeye flight from CA to OH. Which would get me to my college with time for a well-deserved nap before I had to start moving my stuff in. Everything was going according to plan. Until it wasn't.
~Automobiles~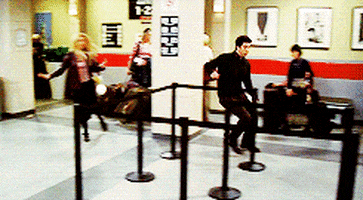 We left for the airport just over four hours before the flight. My app said it would only take us about an hour and fifteen minutes,  leaving just under three hours left until the flight. It was perfect… and then one of the major freeways shut down without any notice. The map app said there was heavy traffic, and nowhere online could you find mention of the freeway shut down. Instead of the hour and fifteen minutes. It took us approximately THREE hours and fifteen minutes to complete the should be 50 minutes, without traffic, to drive to the airport lot. With another THIRTY minutes to drive to the correct terminal of the airport. By the time we got to a place where we could leave the car, my phone buzzed to let me know boarding was over.
I have never felt so panicked in my life, as I did after missing my flight. I started wondering if I was going to have to start taking all these random modes of transportation to get to school like in Planes, Trains, and Automobiles. (One of my all time favorite movies!) ~Planes~
I knew I would eventually get to college, but last-minute flights are EXPENSIVE, to say the least. Not something I could afford easily, and after standing in line for another hour to talk to someone about finding a new flight, they informed me the next plane wasn't for another 12 hours. (Though the lady was exceptionally nice and didn't charge me for the new ticket!) I had no idea what to do for that long. The idea of sleeping in the baggage claim area of the airport until the next day made my heart pound so loud you could almost hear it. Luckily, my mom wasn't about to do that and, somehow, found us a last minute hotel room. (Which was also discounted for us by the nice man working at the front desk.)
Seven a.m. the next morning we headed back to the airport. This time completely on-time.  The new ticket was sadly not a direct flight. Instead, we flew to Houston and had an hour layover. I will say the Houston airport is HUGE and if I had more time I would have loved to explore all the shops and restaurants it has. Particularly, this one bookstore I passed. The flight from Houston to Ohio was only three hours and I passed the time by watching Pitch Perfect 3 and half of Ferdinand before we landed at our destination.  Only 21 hours later than anticipated. With time differences, we got there late at night and headed to bed for an early rise the next day to move into my dorm.
~Trains~
It was a crazy and stressful two days but I did not miss the first day of classes or my audition so, in the end, it was successful. Only after the panic and complications were over was I able to notice all of the things that went well in those moments. Like the airport employee not charging me for the tickets and the hotel employees giving us discounts. Even the plane having free movies was something that was unexpected but much appreciated. Although there was so much that went wrong in my travels, not all of it was bad. As humans in the midst of our busy schedules, we seem to forget that when things go wrong we still have to make sure to look at the things that went right. It is something I am learning, but still, have a long way to go. And if you were wondering if there were any trains don't be discouraged there was. We went over the tracks to get to campus and the train could be heard from my dorm that night.
Have you ever missed your plane flight?
Don't forget to subscribe to my mailing list and follow me on